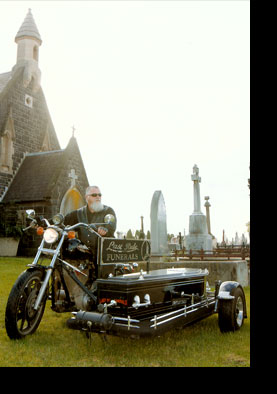 THE SERVICE
The owner/operator of this Harley hearse, Mr. Kerry Walton, offers a unique and professional experience with this original concept. He is dressed in the appropriate attire for this unique send off, black jeans, black vest and black leather jacket (pending weather conditions).
THE HEARSE
The sidecar platform has typical chrome rollers for easy access with non damaging rubber-end clamps for safe, secure transit of the coffins final journey.
Last ride funerals has serviced many states of Australia along with regional Victoria and is home based in outer Melbourne.
Any further enquiries or for further brochures, please call Kerry on:
0417 766 555 or (03) 9717 3884