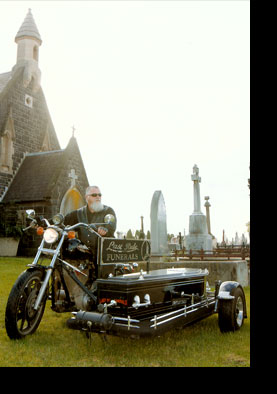 The need for an appropriate send off for a free spirited soul or forever young can now be obliged.
As more and more people assert their individual requests for their loved ones last journey away from the traditional car type hearse, a Harley Davidson hearse is always a very moving sight that puts a distinctive personal stamp and allows mourners to hold a vision of remembrance, freedom and youth.
The symbolism of an eagle soaring free into the sunset is everlasting and promotes emotional release and is a powerful way to say goodbye once and for all. Put yourself in the shoes of a bereaved family looking for a unique innovative service that instils so much meaning and creates so many memories of an event that is usually sombre.
Not only enthusiasts and devotees of motorcycles, but elderly citizens, young adults and children have been laid to rest courtesy of this gleaming black and chrome Harley Davidson sidecar type outfit.